Horrible Bosses is a 2011 black comedy film directed by Seth Gordon, written by Michael Markowitz, John Francis Daley and Jonathan Goldstein, based on a story by Markowitz. It stars Jason Bateman, Charlie Day, Jason Sudeikis, Jennifer Aniston, Colin Farrell, Kevin Spacey, and Jamie Foxx. The plot follows three friends, played by Bateman, Day, and Sudeikis, who decide to murder their respective overbearing, abusive bosses, portrayed by Spacey, Aniston and Farrell.
The Plot
Nick Hendricks (Jason Bateman) and Dale Arbus (Charlie Day) are friends who despise their bosses. Nick works at a financial firm for emotionally abusive Dave Harken (Kevin Spacey) who dangles the possibility of a promotion in front of Nick, only to award it to himself. Dale is a dental assistant being sexually harassed by his boss, Dr. Julia Harris (Jennifer Aniston); she threatens to tell his fiancee (Lindsay Sloane) that he had sex with her unless he actually has sex with her. Nick and Dale's accountant friend Kurt Buckman (Jason Sudeikis) enjoys working for Jack Pellitt (Donald Sutherland) but after Jack dies, the company is taken over by Jack's cocaine-addicted, amoral son Bobby (Colin Farrell).
At night, over drinks, Kurt jokingly suggests that their lives would be happier if their bosses were no longer around. Initially hesitant, they eventually agree to do away with their employers. In search of a hitman, the trio meet "Motherfucker" Jones (Jamie Foxx), an ex-con who agrees to be their "murder consultant". Jones suggests that Dale, Kurt and Nick kill each other's bosses to hide their motive while making the deaths look like accidents.
The three reconnoiter Bobby's house, and Kurt steals Bobby's phone. They next go to Harken's house. Kurt and Nick go inside while Dale waits in the car. Harken returns home and confronts Dale for littering, but then has an allergy attack from the peanut butter on the litter. Dale saves Harken by stabbing him with an EpiPen. Nick and Kurt think Dale is stabbing Harken to death and flee, Kurt accidentally dropping Bobby's phone in Harken's bedroom. Harken's wife Rhonda (Julie Bowen) thanks Dale for saving her husband, causing Harken to jealously accuse her of having an affair with Dale. The next night, Kurt watches Julia's home, who seduces and has sex with him. Nick and Dale wait outside Bobby's and Harken's houses to commit the murders. Harken discovers Bobby's cellphone in his bedroom and uses it to find his address, suspecting his wife is having another affair. He drives over and kills Bobby, with Nick as a secret witness.
Nick flees at high speed, setting off a traffic camera. The three friends meet to discuss their reservations about continuing with their plan. They are arrested by the police, who feel the camera footage makes them suspects in Bobby's murder. Lacking evidence, the police are forced to let the trio go free.
They consult with Jones again, but learn that he has never actually killed anyone, having been imprisoned for bootlegging Snow Falling on Cedars. They decide their only option is to get Harken to confess and secretly tape it. The three accidentally crash Harken's surprise birthday party. Nick and Dale get Harken to confess to the murder before realizing that Kurt, who has the audio recorder, is elsewhere having sex with Rhonda. Harken threatens to kill all three for attempting to blackmail him. They flee by car. Harken gives chase, ramming their vehicle. Kurt asks his car's navigation-system operator to help get them out of trouble. Believing they have committed a crime, the operator remotely disables Kurt's car, allowing Harken to catch and hold them at gunpoint. Harken shoots himself in the leg as he details his plan to frame them for murdering Bobby and attempting to kill him to get rid of the witness.
The police arrest Nick, Dale and Kurt, but the navigation-system operator reveals that the entire conversation was recorded. Harken is sentenced to 25 years to life in prison, while the friends get their charges waived. Nick is promoted to president of the company under a sadistic CEO (Bob Newhart), Kurt retains his job under a new boss, and Dale blackmails Julia into ending her harassment by convincing her to sexually harass a supposedly unconscious patient while Jones secretly records the act.
Reviews
The film received generally positive reviews, attaining a 69% aggregate approval rating based on 194 reviews on Rotten Tomatoes, or an average rating of 6.2 out of 10. According to the website, the critical consensus is, "It's nasty, uneven, and far from original, but thanks to a smartly assembled cast that makes the most of a solid premise, Horrible Bosses works. Review aggregate Metacritic gave it a score of 57 out of 100, which indicates "mixed or average reviews", based on 40 reviews.
Roger Ebert gave the film three and a half stars out of four, calling it "well-cast" and commending it for playing to each actor's strengths. Ebert gave particular praise to Spacey, labeling him "superb", and Aniston, judging her performance to be a "surprise" and a return to form, stating "she has acute comic timing and hilariously enacts alarming sexual hungers". Ebert called Horrible Bosses "cheerful and wicked". Lisa Schwarzbaum of Entertainment Weekly reacted positively, calling the film "a bouncy, well-built, delightfully nasty tale of resentment, desperation, and amoral revenge" and complimented the casting of the protagonists and antagonists. The A.V. Club's Nathan Rabin also praised the cast, stating that the picture "succeeds almost entirely on the chemistry of its three leads, who remain likeable even while resorting to homicide", adding the "acting more than compensates for the film's other failings." Rabin singled out Day's performance as "a potent illustration of how a brilliant character actor with a spark of madness can elevate a ramshackle lowbrow farce into a solid mainstream comedy through sheer force of charisma." Edward Douglas of ComingSoon.net credited director Seth Gordon with having assembled "the perfect cast", claiming "the six leads kill in every scene", but echoed Nathan Rabin's sentiments that Day is the "real standout". Douglas summarized the picture as "dark fun that works better than expected due to a well-developed script, an impeccable cast and a director who knows how to put the two together". A. O. Scott of The New York Times stated "the timing of the cast...is impeccable" and appreciated that the script did not attempt "to cut its coarseness with a hypocritical dose of sweetness or respectability". The review concluded that "in the ways that count and even when it shouldn't, Horrible Bosses works."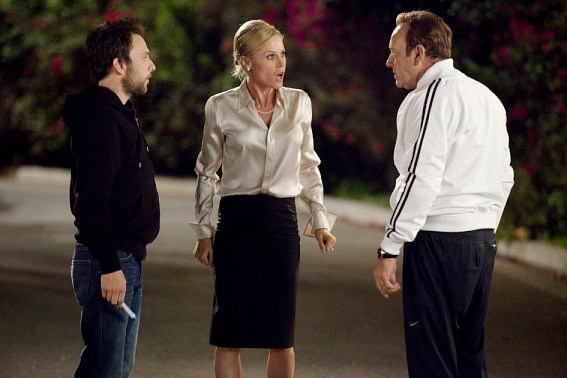 USA Today's Scott Bowles awarded the film three out of four stars, labeling it a "surprising comedy that rivals Bridesmaids as the funniest film of the summer, if not the year." Bowles added that "the characters are so likable", giving particular credit to Sudeikis though also adding praise for the performances of Bateman and Day. The dialogue was also lauded by Bowles, which commented that "Seth Gordon has a deft touch with water-cooler talk—even when the water cooler might be spiked with poison." Leonard Maltin of indieWire considered Day to have had the "breakout role" and offered praise to the performances of the cast, but lamented the lack of screen time for Farrell's character. Maltin concluded "the movie has just enough raunchiness to identify it as a 2011 comedy, just enough cleverness to admire, and just the right camaraderie among its three male stars, which turns out to be the movie's greatest strength." Rolling Stone's Peter Travers gave kudos to the "killer cast", with specific credit given to Bateman and Day, but was critical of the movie, stating "it wussies out on a sharp premise" and that it is a "hit-and-miss farce that leaves you wishing it was funnier than it is" The Guardian's Philip French called Horrible Bosses "a lumbering, misogynistic affair", but admitted "I laughed frequently, probably to the detriment of my self-respect." Nicholas Barber of The Independent gave a positive review, complimenting Gordon for not allowing the actors' improvisation to be detrimental to the pacing, but felt the movie was not as "dark" as its premise required, saying "what edginess the film does have comes instead from the inordinate quantity of swearing, plus a smattering of homophobia and misogyny."
Salon's Andrew O'Hehir offered a mixed response, characterizing the film as a "lot funnier in theory than in practice, but it won't ruin your Saturday night". Salon appreciated the "effortless comic chemistry" between Sudeikis, Bateman and Day and singled out Bateman, Aniston and Spacey for their performances. O'Hehir was however critical of the perceived homophobia, sexism and racism. The Hollywood Reporter's Kirk Honeycutt responded negatively, stating the jokes failed to be funny, stating "Seth Gordon shows no flair for turning the absurdities and cartoonish characters in the script...into anything more than a collection of moments in search of laughs." Karina Longworth of The Village Voice was critical of the premise, which she felt lacked any legitimate "rage" against the characters' bosses, stating "...there's every sign that, even without these particular emasculators, Dale, Kurt and Nick would still be—for lack of a better word—total pussies." Longworth felt that the humor was "rarely actually laugh-out-loud funny, and never truly dark or daring". She particular criticized the all-white, male protagonists and a plot she deemed racist and filled with "stereotypes". Justin Chang of Variety praised the performance of the ensemble cast, but considered the plot to be "predictably moronic, vulgar and juvenile". Chang echoed the sentiments of The Village Voice in lamenting that the film failed to pursue the premise to "darker, more daring territory" and faulted it for falling back on "over-the-top comic exaggeration".
The Cast


P.J. Byrne as Kenny Sommerfeld
Kevin Spacey as Dave Harken
Colin Farrell as Bobby Pellitt
Steve Wiebe as Thomas, Head of Security
Jennifer Aniston as Dr. Julia Harris, D.D.S.
Jason Bateman as Nick Hendricks
Charlie Day as Dale Arbus
Lindsay Sloane as Stacy
Michael Albala as Mr. Anderton
Jason Sudeikis as Kurt Buckman
Reginald Ballard as Kurt's Co-Worker
George Back as Kurt's Co-Worker
Barry Livingston as Kurt's Co-Worker
Meghan Markle as Jamie
Donald Sutherland as Jack Pellit
Celia Finkelstein as Margie Emerman
John Francis as Daley Carter
Scott Rosendall as Hank Preston
Dave Sheridan as Bartender (Bradford's Bar)
Ioan Gruffudd as Wetwork Man
Brian George as Atmanand
Chad Coleman as Bartender (Dive Bar) (as Chad L. Coleman)
Jamie Foxx as Dean 'MF' Jones
Diana Toshiko as Bobby's Girl
Carla Maria Cadotte as Bobby's Girl
Peter Breitmayer as Pharmacist
Julie Bowen as Rhonda Harken
Isaiah Mustafa as Officer Wilkens
Wendell Pierce as Detective Hagan
Ron White as Detective Samson
Jimm Giannini as Harken Party Guest
Dawn Frances as Harken Party Guest
Andrew Lukich as Cop #1
Bob Newhart as Lou Sherman
Seth Gordon as Ralph Peterberg
Keith Middlebrook as Steinman