The Social Network is a 2010 American drama film directed by David Fincher and written by Aaron Sorkin. Adapted from Ben Mezrich's 2009 book The Accidental Billionaires, the film portrays the founding of social networking website Facebook and the resulting lawsuits. It stars Jesse Eisenberg as founder Mark Zuckerberg, along with Andrew Garfield and Justin Timberlake as the other principals involved in the website's creation. Neither Zuckerberg nor any other Facebook staff were involved with the project, although Eduardo Saverin was a consultant for Mezrich's book. The film was released in the United States by Columbia Pictures on October 1, 2010.

The film received widespread acclaim, with critics praising it for its editing, acting, score and screenplay. Some people, including Zuckerberg himself, criticized the film for its many inaccuracies. The Social Network appeared on 78 critics' top 10 list for 2010; of those critics 22 had the film in their number one spot. Rolling Stone's Peter Travers said "The Social Network is the movie of the year. But Fincher and Sorkin triumph by taking it further. Lacing their scathing wit with an aching sadness, they define the dark irony of the past decade." It received eight Academy Award nominations, including Best Picture, Best Director (Fincher), and Best Actor (Eisenberg) and won three for Best Adapted Screenplay, Best Original Score, and Best Film Editing. It also won the Best Motion Picture – Drama Golden Globe at the 68th Golden Globe Awards. The film also won Golden Globe awards for Best Director, Best Screenplay and Best Original Score, making it the film with the most wins of the night.
The Plot
In 2003, Harvard University student Mark Zuckerberg is dumped by his girlfriend Erica Albright. He returns to his dorm drunk and writes a scathing blog entry about her. This inspires him to create an on-campus website called Facemash which allows users to rate the attractiveness of female students using photographs pilfered from various university systems. Mark receives six months of academic probation after traffic to the site crashes parts of Harvard's network. Facemash's popularity and the fact that Mark created it in one night while drunk brings him to the attention of Cameron and Tyler Winklevoss and their business partner Divya Narendra. The Winklevoss twins invite Mark to their final club, where Mark accepts a job as programmer for a proposed dating website they call Harvard Connection which will be exclusive to Harvard alums.

Mark approaches his friend Eduardo Saverin and tells him of his idea for what he calls "Thefacebook", an online social networking website exclusive to Harvard University students. He explains that this would mimic the popularity of FaceMash but since signing up would be consensual it would avoid the ethical problems of the earlier site. Eduardo agrees to help Mark, providing $1,000 to help start the site. They distribute the link to Eduardo's connections at the Phoenix S-K final club, and it becomes popular throughout the student body. When they learn of Thefacebook, the Winklevoss twins and Narendra believe Zuckerberg has stolen their idea while stalling on their website. Tyler and Divya want to sue Mark for intellectual property theft, but Cameron convinces them to settle the matter as "Gentlemen of Harvard".

During a visiting lecture by Bill Gates, fellow Harvard University student Christy Lee introduces herself and her friend Alice to Eduardo and Mark and asks the boys to "Facebook me". Christy's use of this phrase impresses both of them. Christy invites them to a bar, where Mark runs into Erica, who is not aware of Thefacebook because she is not a Harvard student. Mark decides to expand the site to Yale University, Columbia University and Stanford University as Thefacebook grows in popularity, while the Winklevoss twins and Narendra watch "their idea" advance without them. Cameron refuses to sue them, instead accusing Mark of violating the Harvard student Code of Conduct. Through their father's connections they meet with Harvard President Larry Summers, who is dismissive towards the twins and sees no potential value in either a disciplinary action or in Thefacebook website itself.

Through Christy, now Eduardo's girlfriend, Eduardo and Mark arrange a meeting with Napster co-founder Sean Parker. Eduardo becomes skeptical, noting Sean's problematic personal and professional history. Sean presents a vision for Facebook very similar to that of Mark, which earns Mark's instant admiration. In a parting comment, Sean suggests they drop the "The" from Thefacebook.

At Sean's suggestion, Mark moves the company to Palo Alto while Eduardo remains in New York seeking advertising support. Sean advises Mark to keep hold of his ownership of Facebook to ensure that Mark does not lose control of a potentially lucrative business venture, using Victoria's Secret founder Roy Raymond as an example. After Sean promises to expand Facebook to two continents, Mark invites Sean to live at the house he is using as the company headquarters.

While competing in the Henley Royal Regatta for Harvard, the Winklevoss twins discover Facebook has expanded to a number of English universities and footage of their lost finals match against the Hollandia Roeiclub is posted on it. Cameron relents and they decide to sue. When Eduardo visits from New York, he is angered to find Sean living in their house and making business decisions for Facebook. Eduardo argues with Mark, with Mark making a demeaning remark regarding Eduardo's failed attempts to find advertisers. Eduardo freezes the company's bank account and returns to New York.
Christy argues with Eduardo about his Facebook profile, which lists him as "single". Christy does not believe Eduardo when he reluctantly explains that he does not know how to change his profile. She accuses him of cheating on her and sets fire to a scarf he gave to her. While Eduardo extinguishes the fire she caused, Mark reveals on the phone that although he was upset that Eduardo almost jeopardized Facebook by freezing the bank account, they have secured $500,000 from angel investor Peter Thiel. As a result of Christy's odd behavior, Eduardo ends his relationship with her.
While visiting the new headquarters for a meeting, Eduardo discovers the deal he signed with Sean's investors has allowed them to dilute his share of the company from 34 percent to 0.03 percent, while maintaining the ownership percentage of all other parties. He confronts Mark and announces his intention to sue him. During a party celebrating Facebook's one millionth member, Sean and a number of underage Facebook interns are arrested for possession of cocaine. Sean tries deceiving Mark into believing that he had nothing to do with the incident and that Eduardo stashed the cocaine, but Mark does not believe him and tells him to "go home".
The story is intercut with scenes from depositions taken in lawsuits against Mark and Facebook—one filed by the Winklevoss twins, the other by Eduardo. The Winklevoss twins claim that Zuckerberg stole their idea, while Saverin claims his shares of Facebook were diluted when the company was incorporated. At the end, Marylin Delpy, a junior lawyer for the defense, informs Mark they will be settling with Eduardo, since the sordid details of Facebook's founding and Mark's callous attitude will make a jury highly unsympathetic. After everyone leaves, Mark sends a friend request to Erica Albright on Facebook, and refreshes the page every few seconds waiting for a response.
In the film's epilogue, it reveals that Cameron and Tyler Winklevoss received a settlement of $65 million dollars and signed a non-disclosure agreement. They also rowed in the 2008 Beijing Olympics and placed sixth. Eduardo Saverin also received a settlement but the payment is unknown. The epilogue also reveals that Saverin's name has been restored to the Facebook masthead as the Co-founder of Facebook and that the website has over 500 million members in 207 countries and is currently valued at 25 billion dollars. The epilogue finally states that Mark Zuckerberg is the world's youngest billionaire.
Reviews
The Social Network has received critical acclaim. Review aggregate Rotten Tomatoes reports that 96% of critics have given the film a positive review based on 272 reviews, with an average score of 9/10 and a critical consensus of: "Impeccably scripted, beautifully directed, and filled with fine performances, The Social Network is a riveting, ambitious example of modern filmmaking at its finest." It has a 100% among "Top Critics". The film also holds a score of 95 based on 42 reviews on Metacritic, indicating "universal acclaim" and making it one of the site's highest-rated movies of all time.

Roger Ebert of the Chicago Sun-Times, giving it four stars and naming it the best film of the year, wrote: "David Fincher's film has the rare quality of being not only as smart as its brilliant hero, but in the same way. It is cocksure, impatient, cold, exciting and instinctively perceptive." Peter Travers of Rolling Stone, gave the film his first full four star rating of the year and said: "The Social Network is the movie of the year. But Fincher and Sorkin triumph by taking it further. Lacing their scathing wit with an aching sadness, they define the dark irony of the past decade." The Harvard Crimson review called it "flawless" and gave it five stars. Quentin Tarantino listed The Social Network as one of his favorite 20 movies of the year, second to Toy Story 3.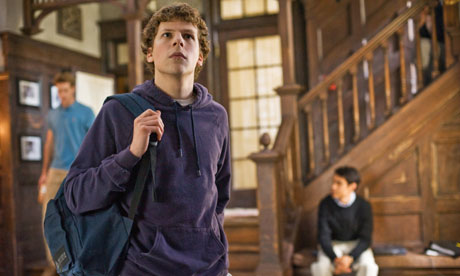 Some reviewers pointed out that the film plays loosely with the facts behind Facebook's founding. Joe Morgenstern in The Wall Street Journal praised the film as exhilarating but noted: "The biographical part takes liberties with its subject. Aaron Sorkin based his supersmart and superbly funny screenplay on a contentious book, Ben Mezrich's The Accidental Billionaires, so everything that's seen isn't necessarily to be believed."
The film won Best Picture from the National Society of Film Critics, the New York Film Critics Circle, the Los Angeles Film Critics Association and the National Board of Review, making it only the third film in history (after Schindler's List and L. A. Confidential) to sweep the "Big Four" critics. The film also won the "Hollywood Ensemble Award" from the Hollywood Awards. The Social Network appeared on 78 critics' top 10 lists for 2010, of those critics 22 had the film in their number one spot.
The movie has won 3 Oscars another 96 wins & 81 nominations !
The Cast
Jesse Eisenberg as Mark Zuckerberg
Rooney Mara as Erica Albright
Bryan Barter as Billy Olsen
Dustin Fitzsimons as Phoenix Club President
Joseph Mazzello as Dustin Moskovitz
Patrick Mapel as Chris Hughes
Andrew Garfield as Eduardo Saverin

Patrick Mapel as Chris Hughes
Douglas Urbanski as Larry Summers
Wallace Langham as Peter Thiel
Dakota Johnson as Amelia Ritter
Malese Jow as Alice Cantwel
Denise Grayson as Gretchen