The Witcher 2: Assassins of Kings is a third-person role-playing video game developed by Polish studio CD Projekt RED for Microsoft Windows and Xbox 360. It is a sequel to the 2007 video game The Witcher, and was released internationally on May 17, 2011. Like its predecessor, the game is based on the book series of the same name by Polish author Andrzej Sapkowski. The game has been a critical and commercial success selling around 1 million units.
Plot:
The Witcher 2: Assassins of Kings contains many different paths and storylines, along with multiple endings. As in the first game, the player takes control of Geralt of Rivia, one of the few remaining witchers. Witchers are humans that have been genetically enhanced and trained to fight monsters from a young age.They have special Powers, different in each Witcher. These include Alchemy, Magic, and Sword Handling (swordsmanship).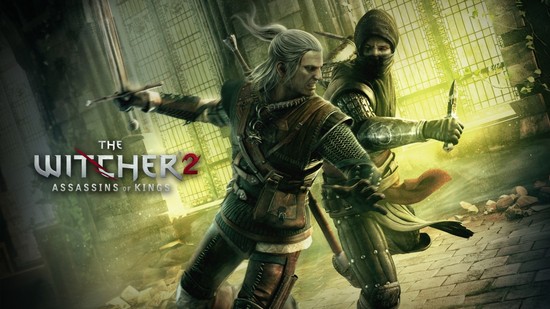 Release:
The Witcher 2: Assassins of Kings was released for PC on May 17, 2011 at retail and for digital distribution services such as GOG and Steam.

On June 2, 2011, an Xbox 360 version was announced, with CD Projekt confirming that it would be released by the end of the year.However, on August 1, 2011, the Xbox 360 release date was pushed back to the first quarter of 2012 to give the team "more time expanding and polishing certain elements of the gameplay" and to allow the developers time to deal with legal issues surrounding distribution rights for the game.

On August 30, 2011, the Warsaw Business Journal reported that The Witcher 2 had sold more than 940,000 copies.According to Piotr Nielubowicz, a board member of CD Projekt Red, those the company had been expecting those sales figures.Of those 940,000 copies sold, 200,000 were online sales (digital sales).

In a separate news article dated November 11, 2011, PC Gamer reported similar statistics for online sales of The Witcher 2.According to PC Gamer, Direct2Drive, Impulse and Gamersgate's combined sales were a total of 10,000.GOG sold 40,000 copies.Within the same time period, 200,000 copies of The Witcher 2 were sold on Steam.

According to IGN: "The game is a gorgeous, unfiltered fantasy epic", rated "Amazing" - 9.0/10.0, ranked #90 out of 16742 PC rated games.
The world of The Witcher 2 is a volatile, violent place filled with selfish, furtive characters. As monster slayer Geralt of Rivia, you'll need to not only combat beasts and bandits, a case of amnesia and the public perception that you're responsible for regicide, but also navigate between powerful figures and unravel complex conspiracies amidst a huge cast of power-obsessed monarchs and magic users. It's an adventure where choices that appear inconsequential slap the story in unexpected directions and one that doesn't compromise its fiction in the name of convenience or accessibility. In some ways those qualities are flaws, but they also contribute to a world that feels convincing, making its initial inaccessibility seem inconsequential relative to the intrigue and revelations embedded further in.

The characters in The Witcher 2 exist in a land of monsters, celestial bodysnatchers and magic, and though there are stereotypes walking around, they're not all typical video game fantasy fare. Even the supposed heroes are hopelessly self-serving, arrogant and impudent. This isn't a game afraid to paint its characters as racists, sexists, drunkards or just generally reprehensible people governed by fear and uncertainty, including Geralt and his friends. Those styled as saviors and leaders possess far more flaws and secrets than they initially let on, and as a result the characters don't feel like Pez dispensers of brittle phrases, they feel human.
According to IMDb:
Quick Review: My score 9.5 Presentation: The Presentation of The Witcher 2 is wonderful, featuring an evolving story based on your decisions, the game is best described as a perfect mixture of Dragon Age Origins and the Gothic series.
Game play: Geralt is Witcher and as the name applies he is equipped with an arsenal of magic attack abilities and 2 swords, a steel one for humanoids and a silver one for monsters. You play through a Prologue, 3 chapters and an epilogue each chapter besides the epilogue has their own map, each map plays as a new sandbox location. These places evolve base on your decisions and will grow as your character grows, combat is fast paced and can best be described as AAA version of the Gothic series with just a little bit of Assassin Creed thrown in. Tactics will also play a role in the game play as you can buy and craft armor, bombs, potions and traps, all which can play a decisive role in combat.
Story: You play as Geralt the White Wolf, part of an order of warriors know as Witcher's, Witchers are created through alchemy and magic and their sole purpose in life is to protect mankind from monsters. So when Geralt has to save a King from a assassin he was shocked to learn that the assassin was a Witcher also. Geralt must now go on a journey to clear his name and discover the reason behind the assassination attempt. His journey will be shaped by your decision's.
Graphics: The best looking RPG of 2011 period, if you are worried about the poor optimization that the Witcher 1 had do not fret, the Witcher 2 is completely optimized. I only have 1 5850 and can run the game on Ultra.
Overall: Witcher 2 will go down as possibly the best RPG of 2011 and in my personal opinion crushes all competition so far. Any RPG fan will be disappointed if they do not buy this game.
Thank you for reading and hopefully you have the same enjoyment that I had with the Witcher 2.