Opeth is a Swedish heavy metal band from Stockholm, formed in 1990. Though the group has been through several personnel changes, singer, guitarist, and songwriter Mikael Åkerfeldt has remained Opeth's driving force throughout the years. Opeth has consistently incorporated progressive, folk, blues, classical and jazz influences into their usually lengthy compositions, as well as noticeable influences from black metal and death metal, most notably in their early works. Many songs include acoustic guitar passages and strong dynamic shifts, as well as both death growls and clean vocals. Opeth rarely made live appearances supporting their first four albums; but since conducting their first world tour after the 2001 release of Blackwater Park, they have led several major world tours.
Opeth has released ten studio albums, three live DVDs, three live albums (two in conjunction with DVDs), and two boxsets. The band released its debut album Orchid in 1995. Although their eighth studio album, Ghost Reveries, was quite popular in the United States, Opeth did not experience major American commercial success until the 2008 release of their ninth studio album, Watershed, which peaked at number twenty-three on the Billboard 200, and topped the Finnish albums chart in its first week of release.
Formation:

Opeth was formed as a death metal band in the autumn of 1990 in Stockholm, Sweden by vocalist David Isberg.Isberg asked former Eruption band member Mikael Åkerfeldt to join Opeth as a bassist. When Åkerfeldt showed up to practice the day after Isberg invited him, it became clear that Isberg had not told the band members, including the band's current bassist, that Åkerfeldt would be joining. An ensuing argument led to all members but Isberg and Åkerfeldt leaving to form a new project.The band name was derived from the word "Opet," taken from the Wilbur Smith novel The Sunbird.In this novel, Opet is the name of a fictional Phoenician city in South Africa whose name is translated as "City of the Moon" in the book.
Isberg and Åkerfeldt recruited drummer Anders Nordin, bassist Nick Döring, and guitarist Andreas Dimeo. Unsatisfied with Opeth's slow progress, Döring and Dimeo left the band after their first performance, and were replaced by guitarist Kim Pettersson and bassist Johan DeFarfalla. After the next show, DeFarfalla left Opeth to spend time with his girlfriend in Germany, and was replaced by Åkerfeldt's friend, bassist Peter Lindgren. Rhythm guitarist Kim Pettersson left following the band's next performance, and Lindgren switched to guitar. David Isberg quit in 1992 because of creative differences.
With three members in the band, Åkerfeldt took over vocal duties and the trio spent the next year writing and rehearsing new material. The group began to rely less on the blast beats and aggression typical of death metal, and incorporated acoustic guitars and guitar harmonies into their music; developing the core sound of Opeth. Stefan Guteklint joined on bass in 1990, but was dismissed by the band after signing its first record deal with Candlelight Records in 1994. The band initially employed former member DeFarfalla as a session bassist for the recording, and he went on to join on a full-time basis following the release of Opeth's debut album in 1995.
Musical style and influences:
As Opeth's primary songwriter and lyricist, vocalist/guitarist Mikael Åkerfeldt heads the direction of Opeth's sound. Åkerfeldt is also the only original member, influenced at a young age by heavy metal bands such as Iron Maiden, Slayer, Death, Black Sabbath, Celtic Frost, King Diamond, Morbid Angel, and most importantly Judas Priest. According to Mikael Åkerfeldt Sad Wings of Destiny is the best heavy metal album ever, and there was a time when he only listened to Judas Priest. Mikael Åkerfeldt sings "Here Come the Tears" by Judas Priest at most of his shows while warming up.Åkerfeldt later discovered progressive rock and folk music, both of which had a profound impact on the sound of the band.Opeth's distinct sound mixes death metal with acoustic passages, while also incorporating elements of progressive metal and progressive rock.In his review of Blackwater Park, Allmusic's Eduardo Rivadavia wrote, "Tracks start and finish in seemingly arbitrary fashion, usually traversing ample musical terrain, including acoustic guitar and solo piano passages, ambient soundscapes, stoner rock grooves, and Eastern-tinged melodies—any of which are subject to savage punctuations of death metal fury at any given moment." Åkerfeldt commented on the diversity of Opeth's music:
I don't see the point of playing in a band and going just one way when you can do everything. It would be impossible for us to play just death metal; that is our roots, but we are now a mishmash of everything, and not purists to any form of music. It's impossible for us to do that, and quite frankly I would think of it as boring to be in a band that plays just metal music. We're not afraid to experiment, or to be caught with our pants down, so to speak. That's what keeps us going.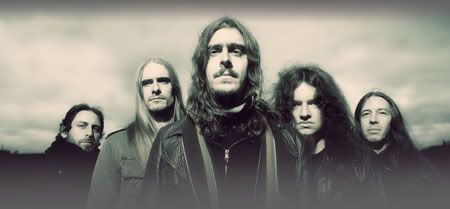 Vocally, Åkerfeldt shifts between traditional death metal vocals for heavy sections, and clean, sometimes whispered vocals over acoustic passages. While his death growls were dominant on early releases, later efforts incorporate more clean vocals, with both Damnation and Heritage featuring only clean singing.Rivadavia noted that "Åkerfeldt's vocals run the gamut from bowel-churning grunts to melodies of chilling beauty—depending on each movement section's mood."
Band members:
Current members:
Mikael Åkerfeldt – lead vocals, guitars (1990-present), bass guitar (1997)
Martin Mendez – bass guitar (1997-present)
Martin "Axe" Axenrot – drums, percussion (2006-present)
Fredrik Åkesson – guitars, backing vocals (2007-present)
Joakim Svalberg – keyboards, synthesizer, backing vocals, percussion (2011-present)
Discography:
ORCHID

Orchid is the debut album by Swedish progressive death metal band Opeth, released on May 15, 1995 in Europe by Candlelight Records, and on June 24, 1997 in the United States by Century Black. It was reissued in 2000 with one bonus track called "Into the Frost of Winter", an early recording by the band. The recording sessions occurred at the old Unisound studio, in Finspång, between March and April 1994. Opeth produced alongside Dan Swanö. The band did not record a demo to get signed to a record label. Lee Barrett, the founder of Candlelight Records, enjoyed an Opeth rehearsal tape, and decided to sign the band.
In 1994, Opeth combined progressive rock, folk music, black and death metal in songs bordering to nine minutes, except for two instrumental songs of short duration, and made an album that did not sound like anything else at the time. According to Rocknworld, with Orchid, Opeth "became the foremost purveyors of what would come to be known as extreme progressive metal" and "exploded on the scene with a majestic style that reinvented what progressive meant." The album was well-received critically, even being called "unique".
MORNINGRISE
Morningrise is the second studio album by Swedish progressive metal band Opeth. It was released on June 24, 1996 in Europe by Candlelight Records and on June 24, 1997 in the United States by Century Black. The recording sessions took place at Unisound studio, in Örebro, between March and April 1996, and once more the band produced alongside Dan Swanö. Morningrise was the last Opeth album produced by Swanö. It was also the last Opeth release with drummer Anders Nordin and bassist Johan De Farfalla.
Morningrise showcases Opeth's signature style, exploring the dynamics between the combination of black metal and death metal vocals, and guitar parts with lighter progressive and acoustic elements. The album was very well-received by critics, with some calling it "epic" and "perfect".
MY ARMS, YOUR HEARSE
My Arms, Your Hearse is Opeth's third studio album, released in 1998. This album marks a large stylistic change from their previous release, Morningrise, especially production-wise. All of the songs are shorter than ten minutes, whereas on their prior albums most songs exceed this length.
My Arms, Your Hearse was Opeth's first album to be simultaneously released in Europe, on Candlelight Records, and the United States, on Century Black.
The title of the album is derived from the lyrics of "Drip, Drip" from First Utterance by Comus.The album is dedicated to Lee Barrett (of Candlelight Records).
This was the first Opeth album with Martin Lopez, who answered a newspaper ad searching for a drummer. Shortly thereafter the band also brought in Martin Mendez, a friend and previous band-mate of Lopez. However, Mendez did not have enough time to learn the bass parts for the album, so Mikael Åkerfeldt played bass at the recording session.Åkerfeldt explains the sound of this album is affected because he recorded it with the flu.
STILL LIFE
Still Life is the fourth studio album from Swedish progressive death metal band Opeth. The album was produced and engineered by Opeth "under the watchful eye" of Fredrik Nordström.
Like its predecessor, My Arms, Your Hearse, Still Life is a concept album. Front-man Mikael Åkerfeldt explains: "Still Life was not Satanic but an anti-Christian theme. It sounds pretty naive when I explain it like this. It kind of takes place a long time ago when Christianity had a bigger importance than it has today. The main character is kind of banished from his hometown because he hasn't got the same faith as the rest of the inhabitants there. The album pretty much starts off when he is returning after several years to hook up with his old 'babe'. Obviously a lot of bad things start happening with, as I call it on the album, 'the council.' The big bosses of the town know that he's back. A lot of bad things start happening. They see him as a hypocrite in a way. It's almost like a devil's advocate or whatever it's called."
BLACKWATER PARK
Blackwater Park is the fifth studio album by Swedish progressive death metal band Opeth. It was released on February 27, 2001 through Music for Nations and Koch Records.The album marks the first collaboration between Porcupine Tree frontman Steven Wilson and the band, as Wilson had been brought in to produce the album, which led to a considerable shift in Opeth's musical style.
Blackwater Park did not chart in North America or the United Kingdom. The album had two singles released from it: "The Drapery Falls" and "Still Day Beneath the Sun". Blackwater Park was highly acclaimed on its initial release and has been praised by critics, with Eduardo Rivadavia of Allmusic stating that the album is "surely the band's coming-of-age album, and therefore, an ideal introduction to its remarkable body of work."
DELIVERANCE
Deliverance is Opeth's sixth studio album, following the band's highly successful 2001 album, Blackwater Park. It was recorded between July 22 and September 4, 2002 (see 2002 in music), at the same time as Damnation, which was released the following year. The two albums contrast starkly with one another, purposely dividing the band's two most prevalent styles, as Deliverance is considered to be one of the band's heaviest albums, whereas Damnation experimented with a much mellower progressive rock-influenced sound.
The band originally intended for Deliverance and Damnation to be released as a double album, but the record company eventually decided against this and released them separately, approximately five months apart from one another in order to promote them properly.
The album peaked on Top Heatseekers at #16 and the Top Independent Albums chart at #19.
The track "Master's Apprentices" was named after the Australian hard/progressive rock group The Masters Apprentices.The track "For Absent Friends" was named after a song of the same name, originally appearing on the album Nursery Cryme by progressive rock group Genesis.
Opeth won a Swedish Grammy with Deliverance for Best Hard Rock Performance.
At the end of "By the Pain I See in Others", the final note fades slowly and ends at 10:38. Silence follows until 11:58, followed by two reversed verses from "Master's Apprentices" at 12:19 and 13:15.
This album is in the Collecter's Edition Slipcase.
As of 2011, "By the Pain I See in Others" has never been played live in concert.
The iTunes store names "Master's Apprentices" and "By the Pain I See in Others" in the wrong order.
DAMNATION
Damnation is the seventh full-length studio album by Opeth. It was released five months after Deliverance which was recorded at the same time. The album was a radical departure from their typical death metal sound and into the much softer, 1970s inspired progressive rock genre and features no heavy riffs, extendedly fast tempos or growled vocals. The album was critically acclaimed and boosted their popularity, leading to the release of Lamentations on DVD in 2004.
It was Opeth's first album to chart in any country in which so to reach the Billboard 200, with a peak at #192. It also charted #14 on the Top Independent Albums chart. "Windowpane" was the album's single and has a music video for it, which is edited down from its original length. Recorded simultaneously with Deliverance, Damnation was entirely devoid of the musical elements of death metal and instead showcased a 1970s progressive rock vibe, with clean vocals and guitar sounds and prominent mellotron. The album was also produced by Steven Wilson, who contributed backing vocals and keyboards, and co-wrote one song, "Death Whispered a Lullaby". Mikael Åkerfeldt dedicated Deliverance and Damnation to his grandmother, who died in a car accident during the recording.
GHOST REVERIES
Ghost Reveries is the eighth full-length studio album release of Swedish progressive death metal band Opeth. It is their first album with their new record label, Roadrunner Records. This album is similar in style to Deliverance. However, it retains the atmospheric elements of Damnation with clean vocals that carry a more gothic quality than what was heard in previous efforts.
It is also the first album by Opeth to include Per Wiberg as a "permanent" member, although Wiberg contributed keyboard work to Opeth's live performances starting around the time of Deliverance.
WATERSHED
Watershed is the ninth full-length studio album by the Swedish progressive death metal band Opeth. Published by Roadrunner Records, the album's special edition was released first (rather than the standard edition) as a music download on the Italian iTunes Stores on May 19, 2008.
Watershed is the first studio album by Opeth to feature drummer Martin Axenrot and guitarist Fredrik Åkesson, as well as the first not to feature longtime guitarist Peter Lindgren. The artwork for the album was made by Travis Smith (who has created the artwork for eight previous Opeth releases) in collaboration with Mikael Åkerfeldt.
It was released in standard, 180 gram vinyl, and special edition versions. The special edition version includes three bonus tracks, a bonus DVD with a 5.1 surround sound mix of the entire album (not including bonus tracks), video content featuring rehearsals, and studio footage, as well as expanded artwork. The vinyl release comes in gatefold packaging, and contains the album on two LPs, as well as a CD copy of the album (both including the bonus track "Derelict Herds") and a poster.
HERITAGE
Heritage is the tenth studio album by Swedish band Opeth, released on 14 September 2011 through Roadrunner Records.It was recorded in early 2011 at Atlantis studios in Stockholm, Sweden and was produced by Mikael Åkerfeldt, engineered by Janne Hansson and mixed by Steven Wilson. A critical and commercial success, the album sold 19,000 units in the United States in its debut week and charted at number 19 on the Billboard 200.
Heritage departs from Opeth's usual influence from both progressive rock and death metal. It is the second Opeth album so far to be void of growled vocals and other extreme metal features.
Opeth toured North America in September and October in support of Heritage with Katatonia.In November, the band toured Europe with Pain of Salvation.
And now metalheads feel the the spectacular music of Opeth: