Warhammer 40,000: Dawn of War II is a real-time strategy/tactical role-playing video game developed by Relic Entertainment and published by THQ for Microsoft Windows based on the fictional Warhammer 40,000 universe. It is the sequel to the Warhammer 40,000: Dawn of War video game series. Dawn of War II was released in North America on February 19, 2009 and in Europe on February 20, 2009.
Gameplay:
Playable armies at the initial release of the game include the Space Marines, Orks, Eldar, and Tyranids.

The gameplay of Dawn of War II is markedly different from that of Dawn of War and its expansions. Jonny Ebbert, the game's lead designer, describes the feel of the game by saying that it "takes everything that was great about the original and combines it with the best that Company of Heroes had to offer." There is a heavier focus on cover, which gives more substantial defensive bonuses. Accordingly, there is also new emphasis on methods of dealing with units in cover. Some weapons, such as grenades and other explosives, can destroy cover, while others, such as flamers, ignore cover bonuses completely. Other differences between Dawn of War II and its predecessors include improved unit AI (squads under fire seek cover, for example), more realistically sized vehicles, and an improved physics engine.

As a Games for Windows - Live game, the game uses the Achievements system from Xbox LIVE, and is the first widely released, PC-exclusive game to use it.Because of this, a player must be able to connect to the Windows Live servers in order to access the game's multiplayer features. The game also requires authentication via Steam.
Campaign:
Dawn of War II features a non-linear interplanetary campaign, playable as the Space Marines.The campaign can be played either as single-player or cooperatively with another player through an online connection.

The game's campaign departs from those of its predecessors in several key features. One of the most notable departures is that there are no base-building elements, unlike in previous Dawn of War titles. Instead, the player chooses the units to be used prior to beginning a mission, cannot build new units once the mission begins, and has only limited reinforcement options.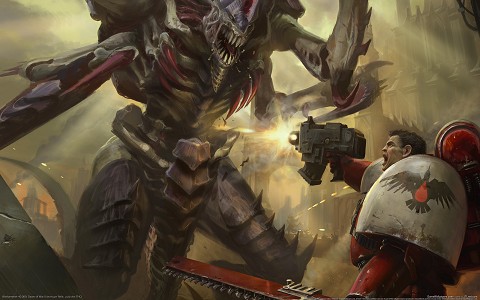 A major part of the campaign lies in choosing which battles and even planets to fight in, and there are consequences regarding which missions are chosen. There may be multiple distress calls to answer, for example, each available for only a limited duration. Once a mission is chosen, the player may still have to choose between various objectives, having to decide between saving civilians or obtaining a powerful piece of wargear, for example.
Once a war zone and mission is selected, the player chooses only four squads to take part in the coming battle. Each squad is unique in its combat specialty, personality, and even the voice acting of its squad leader or sergeant. There is a strong narrative focus on the sergeants of these squads who can increase in experience and skills as the campaign progresses, and cannot ultimately be killed. Rather than dying in a mission, squad leaders are "knocked out" and can be revived either by a friendly unit in close proximity or upon completing the mission.
The campaign includes many elements traditionally associated with RPG-style games. Squad leaders and commander units can be equipped with the wargear which is gathered from battlefields and slain enemies and by accomplishing objectives during missions. Throughout the campaign, as a Space Marine kills enemies and achieves objectives, he gains experience, "levels up", learns new abilities, and gains bonuses.
Plot:
The game opens with the player and Sergeant Tarkus deep-striking onto the planet Calderis to aid Captain Davian Thule and his initiates. As they drive away the Orks they are confronted by Mek Badzappa and his wartrukk. Although the Mek escapes, the Space Marines collapse the mine through which they are coming and achieve victory. After this they strike from the cruiser Armageddon into a hamlet where Scout Sergeant Cyrus is waiting for them. They manage to fight their way to the defender of the hamlet, Sergeant Avitus, rescue him and save the hamlet from Orks.
After this they receive word that Orks have attacked two more key locations and assume someone is leading them. The first attack is led by a Stormboyz Nob named Skykilla and the second by Warboss Gutrencha. After this the Marines obtain information from Skykilla and Gutrencha and find that both have visited Felhammer Mine recently. They also learn that Mek Badzappa is there as well. However Cyrus remains onboard the Armageddon to provide technical support. When they enter the mine they see a Warp Spider Exarch and his retinue vanish, and the Space Marines are rescued from Ork gunners by Sergeant Thaddeus. They also find Badzappa and his platoon under attack by an Eldar Warlock and a company of Guardians. Although they kill the Warlock, the Mek escapes once again. As the Warlock dies he speaks of a greater foe threatening them all, but the heroes remain unconcerned.
They travel to planet Typhon to stop Eldar activity. A Warp Spider Exarch is stirring up the Orks into revolt and must be eliminated. He mentions nothing of the so-called "greater foe" but Thule asks them to return to Calderis as Mek Badzappa is launching an attack against the capital, and citizens are reporting plants mutating and small purple creatures killing livestock. The Space Marines arrive and finally kill the Mek, but they are soon attacked by the Tyranids. Thule is mortally wounded by a Tyranid Warrior and Techmarine Martellus leads them back to safety after they destroy the Tyranid attack force.
The Space Marines return to Typhon, leaving Apothecary Gordian in charge of Thule. They kill the Eldar ranger Nemerian, who has been stirring up trouble, and return to Calderis to kill the Tyranid Warrior that mortally wounded Captain Thule.
After this they are voxed by Captain Gabriel Angelos(the protagonist of the first game) who tells them that he is bringing his company to aid them in their battle to stop the Tyranids, and gives them the three primary objectives of the game. To gain victory they must: gather a pure sample of Tyranid bio-toxin, so that poison can be created(and an antidote to possibly save Captain Thule's life); secure a long lost Astronomic Array on Typhon, which can find a weakness in the hive fleet; and gain control of the Angel Forge on the planet of Meridian to create the powerful weapons the heroes need. These can be completed in any order desired. Securing the Astronomic array will grant the player orbital bombardment and deep-strike, defending Angel Forge will allow Sergeant Tarkus to use Terminator Armour, and gathering the bio-toxin will provide a Dreadnought, which is the revived Captain Davian Thule. Meridian is the target of constant Eldar attacks and it is slowly revealed that Idranel of Ulthwe has been planning to lure the entire Tyranid fleet to Meridian and then destroy it, thus stopping the Tyranid threat and protecting their craftworld but destroying a vital forge world for the Blood Ravens.
Upon completion of all three objectives, the Tyranid poison is ready for delivery. However, Captain Angelos's ship the Litany of Fury (which has been traveling to the player's aid for some time) is psionically assaulted by the Hive Mind and is in grave danger of becoming lost in the Warp. This effectively takes your reinforcements out of the picture - but the Hive Mind is weakened from the exertion and goes to planet Typhon to feed. The player's strike team deploys on the planet and administers the poison to the Hive Mind through its feeder tendrils. In the space battle above, the Armageddon is destroyed and Gordian killed.
As the poison takes effect, all appears lost as the strike team has no means of retreat and massive waves of Tyranids are preparing to attack. Suddenly, Captain Gabriel Angelos and an entire company of Blood Ravens land on the battlefield and protect your force from the oncoming Tyranids. Angelos himself joins your command and is completely controllable; with his help your team kills the Hive Tyrant Alpha and the day is won. As the hive fleet is defeated Gabriel reflects on how the Emperor created the Space Marines to battle the untold horrors of the galaxy, who would fight to the death to defend mankind, and how you and your strike force are those warriors.
The Last Stand: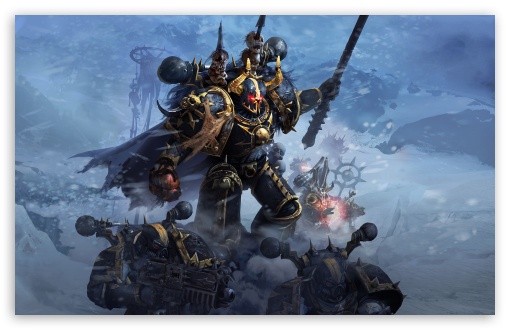 On October 14, 2009 Relic released a new game mode (as part of their 1.8.0 patch) for Dawn of War II, called The Last Stand. Players take control of either a Space Marine Captain, an Eldar Farseer or an Ork Mekboy, and co-operate with two other players in order to take on waves of AI controlled units. With the release of Chaos Rising, the Tyranid Hive Tyrant and Chaos Space Marine Sorcerer were also made playable. As the players play, they gain experience points which unlocks 'wargear' for their character. This was further improved with the release of Retribution which added an Imperial Guard Captain to the fray. A new DLC emerged giving players a chance to use the Shas'O Tau commander unit.

Development:

On January 19, 2009, Relic announced that Dawn of War II had gone gold.A beta was started afterwards with an announcement that the beta focused mainly on optimizing multiplayer balance which was to be optimized in a day zero patch.
Beta:
Dawn of War II was released to the public for beta testing on January 21, 2009, and it was scheduled to run until the game's release date of February 19, 2009.Only purchasers of the Soulstorm expansion pack to Dawn of War were allowed to take part in the first phase of the beta.On January 27, the beta became available to the general public.
The beta was downloadable via Valve's Steam online distribution service.
Game engine:
Dawn of War II uses an updated version of the Essence Engine, Essence Engine 2.0. Essence Engine 1.0 was used to power Relic's World War II real-time strategy game Company of Heroes and its two expansion packs Company of Heroes: Opposing Fronts and Company of Heroes: Tales of Valor.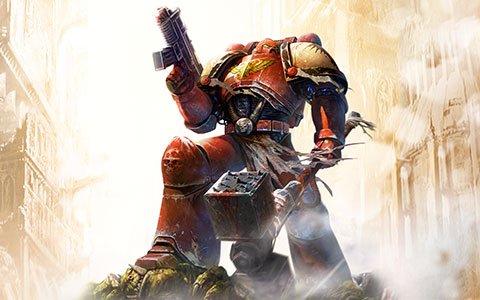 Expansions:
Chaos Rising:
The first expansion entitled Chaos Rising was announced on September 18, 2009 in a gaming magazine podcast.
Prior to the announcement on PC Gamer, several moderators for various fan sites were sent Warhammer 40,000 Chaos Terminator Lord Miniatures. The boxes the miniatures came in had the Blood Raven chapter logo with the number MMX on them. The expansion was released on the 12th of March.
Retribution:
The second stand alone expansion was announced, on August 17, 2010, scheduled for release on the 4th of March 2011. During this period of time it will be shown first to the press at Gamescom. Retribution will, in addition, be leaving Games for Windows Live, announced on 15 September. Retribution will instead use Valve's Steamworks platform for DRM, achievements, social features and matchmaking. It will also feature a new race; the Imperial Guard.
IMDb: Rates this game with a 8.8/10.0.
According to IGN:
Rated "Amazing" with a 9.0/10.0 and ranked #177 out of 16772 PC rated games.
IGN Ratings for Warhammer 40,000: Dawn of War II (PC):
Some rough edges here and there, but overall a well-crafted experience with cinematics added into campaign story sequences for added personality.
Fantastic animations, tons of detail, and overall solid performance. A top-notch visual package.
Voice acting for the story isn't particularly strong, but the rest of the sound effects really hammer home the sense of frenzied conflict alongside an appropriately epic soundtrack.
Thrilling tactical fights set within a new type of RTS framework. Relic took a chance with this, and it works.
A highly replayable campaign and some great online play featuring four interesting armies.
Reviews:

Build your base, order your troops, and command them in the field of battle. It's been the standard operating procedure of the real-time strategy genre since Dune II cemented the foundation. Now with Warhammer 40,000: Dawn of War II, Relic has smashed apart a major pillar of the RTS formula by eliminating base building. In its place have been fused elements of role-playing games, whereby the squads you control in each of the campaign carry over mission to mission, grow, and evolve according to what gear you decide to equip and what skills you decide to improve. The notions of persistence introduced in the expansions to the original Dawn of War have been expanded, the cover system and destructible environments from Company of Heroes imported, and the capture point mechanic for resource acquisition built in and simplified for the skirmish mode. It's a game that, like Massive Entertainment's World in Conflict, slices the strings that bind genre entries to tradition, and in the process emerges as something as strange as it is familiar, that sometimes stumbles in its newness but still manages to find its footing.
The game is divided into a campaign mode and skirmish mode, all of which feature multiplayer. In the campaign, Relic gives you the option to play cooperatively, with those participating working together to vanquish the enemy, though it's only the host who reaps the persistent rewards. In the skirmish mode, you can participate in 1 versus 1 or 3 versus 3 matches online with others or against AI-controlled opponents of several difficulty levels using Tyranid, Eldar, Space Marine, or Ork armies.
This kind of fully-integrated equipment swapping and skill set management is pretty strange for the real-time strategy genre; it's something to be expected more from titles like Diablo or Titan Quest. Yet here it works really well, making for a steady stream of rewards and establishing a connection with your individual units more effectively than the limp dialogue of the story sequences. Instead of thinking of squad leader Tarkus as the respected elder of the bunch, you're more likely to think of him as the guy who's carrying your med kits, melta bombs, and frag grenades. Unless you're a sucker for anything Warhammer 40K, this narrative and the way it's presented likely isn't going to draw you in, shifting the focus to how the game plays, which in this case happens to be really well.
Relic has made a lot of bold decisions with Warhammer 40,000: Dawn of War II, some of which are sure to turn off parts of the RTS hardcore base, the most obvious being the elimination of base building. Yet as players we can't continue to accept the same kinds of games, complain about stagnation, and then turn our backs when somebody does something different. In the campaign portion of the game Relic blended elements of action-RPGs and real-time strategy games and succeeded in producing a new and entertaining kind of experience. The missions could be more interesting and quality of narrative delivery stronger, but what's here is a terrific alternative to the standard base-bashing real-time strategy campaigns, hopefully something Relic is able to expand and further improve with expansions. A full multiplayer suite and four playable races are there waiting for you when you're through with the campaign, and should provide lots of fast-paced bouts of brutal conflict online and in skirmishes against the AI. While the overall formula could still use some fine-tuning, the current product is one part hypercharged tactical combat, one part streamlined competitive RTS, and entirely worth playing.
Published by: THQ
Developed by: Relic
Genre: Real-Time Strategy
Release Date:
Europe: February 20, 2009
PEGI: 16+
Also known as: Warhammer 40K: DoW II